The Mobile Communications Trailer was purchased with Homeland Security funds through the county Emergency Management office. Construction began in 2008 and has continued since then with most work done in 2010. The trailer now houses:
Voice communications on 2 meter, 220 MHz, 440 MHz and HF bands.
2 meter and 220 MHz packet
4 channel Video system
Mobile weather station
APRS
Microwave link to local repeater
The 18 ft by 8 ft double axle trailer can be powered by a Honda 6500 watt generator or direct AC. It includes a local wired network utilizing 3 notebook computers and laser printer and has room for up to 6 operators. Six NMO mount antennas are mounted to the roof and it also includes a 30 ft telescoping mast and rotor system for HF, microwave and other antennas.

2008 Photos
Received the trailer on May 10, 2008. Painting the inside and installing the tile floor.














Ron KC8YVF, Dave N8ERL, Bill W8CWD, Steve KD8FQL, Emmett NE8B (photographer)
2010 Photos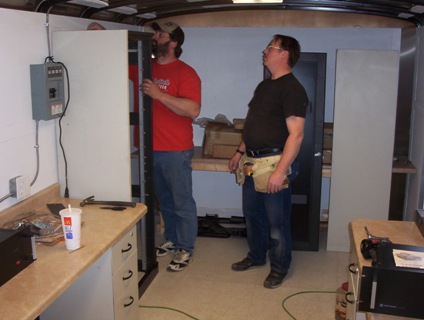 Installing the rack cabinet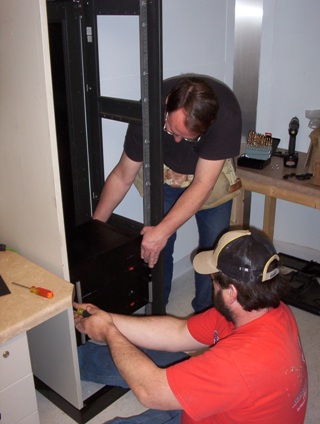 Installing the two Astron RM60 Power Supplies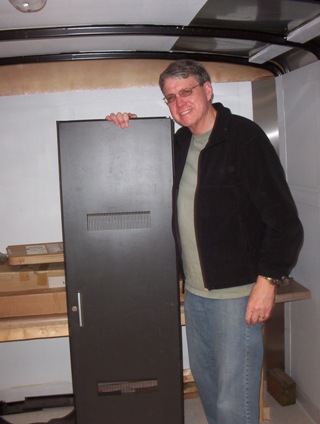 The rack front door.

Radio Rack with 2 60 amp power supplies

Closed Rack

ATV, Voice and Packet stations with networked computer

Packet and Admin stations with networked computers and printer

Front View- Admin, Packet stations

Front View - ATV, Voice, Packet stations

Front workstation

Interior view
2017 Update Photos
The trailer now has 7 radios including HF, VHF, UHF and 220 voice and packet. The refurbish included installing new radios, computers, printer, antenna and cable racks, additional electrical outlets, repair and refinishing of floors and general cleanup.

Net control and packet stations

Admin and Packet station

220 Packet station 1

Admin station

220 Packet station 2

Net control, video station

HF radio station

Yeasu FT-897 HF radio

Astron 60A rack mount 12 volt power supplies

Kenwood TM-D710 radio

Motorola VHF radio

Cable storage

General view

Overhead antenna storage

Overhead antenna storage

Power panel

Equipment Rack

General view

File storage

File storage

File storage

File storage

Battery Tender for generators

Honda EU3000 inverter generator for heat/AC operation

Honda EU6500 inverter generator for trailer operation

Carbon Monoxide Detector

Smoke Detector

Telescoping 30 foot mast for HF, microwave and tri-band antennas

Rear door camera

Rear door camera

Side door camera

Side door camera

Side door camera

Inside camera

Video DVR

Camera view

Camera view

Camera view
2019 Update Photos
The trailer now has Air Conditioning and heat provided by money through the Saginaw County office of Emergency Management. The unit is a Dometic 13,500 btu AC with heat pump for colder weather. The front 12V and florescent lights had to be move forward to provide space the AC unit. The roof was beefed up with steel L supports tied into the existing roof beams and framed with 2x6 lumber to support the inside control unit. A new electric box with circuit breaker was added to support the electrical needs and is connected to a second generator box on the outside to provide power. Power is provided by a Honda 3000 watt generator.

New power connection for the AC unit

Trailer power and AC power panels

Moved forward light to make room for the AC unit

12 volt DC light moved as well

"L" frame added to support the AC unit

Outside generator ports

Hole cut and AC in place

Outside view of AC unit

Inside control panel in place

Supports painted

Wiring in place

Control panel in place
2022 Update
Two Nino 1200/9600 baud TNC's were added to the Alinco 220 radios to allow for Winlink capabilities. These replaced the internal boards that were not full KISS compatable. The TNC's were funded by Covenant Health Care, a local hospital and will be added to other packet locations in the county.