2 Meter
Your 2 meter radio should be easy to program and operate in the field. It should have at least 5 watts of power from its supplied rechargeable battery. It should also be able to be operated at full power from an optional AA dry cell battery pack (a must for EComm use). It should have a strong audio amp so it can be heard in noisy environments. It should also meet or exceed MIL-STD-810 C/D/E or submersible standards to allow it to be used in any type of situation or weather. It should have a large back lighted display and keypad for easy visibility and use in darkness.
An example would be the Yaesu FT-270R or Kenwood TH-K2AT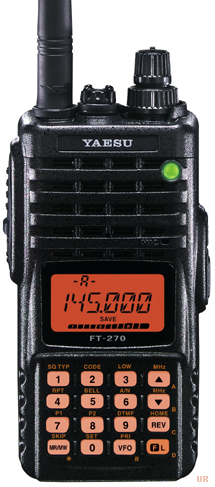 Dual Band
A dual band EComm radio should have all of the features of the 2 meter, but add the 440 MHz band. The radio should have at least dual display and dual receive and may also have dual VFO's. This allows you to monitor one band while transmitting on another band.
An example would be the Kenwood TH-F6A or Alinco DJ-G7T